Gymnastics
The Harwood Highlanders went into their championships on Saturday, February 16, seeded ninth on the season due to a small squad of three girls.
They finished at states in eighth position 12.575 points ahead of the Middlebury Tigers. They trailed Randolph by 1.55 points for the seventh.
CVU's Taylor Hoar won vault with an 8.525. Harwood's top finishers on vault were Riley Gallagher (7.75), Delana Cheney (7.525) and Lynn Russell (7.075).
South Burlington's Diana Gregoire triumphed on bars with an 8.9. Gallagher (6.075), Lynn Russell (6.0) and Cheney (4.3) led Harwood.
CVU's Delaney Miller-Bottom walked away victorious on beam with a 9.425. Cheney recorded a podium finish on beam in sixth place with an 8.85. Gallagher recorded a 7.75 and Russell finished with a 7.15 for Harwood.
CVU's Logan Claffy laid down a floor routine that earned a winning score of 9.575. The Highlanders had a strong showing on floor. Cheney (7.9), Gallagher (7.025) and Russell (6.5) showcased their talents for Harwood.
In the all-around competition, HU's top overall performers were Gallagher (28.6), Cheney (28.575) and Russell (26.725).
Team Scores: 1. Essex 137.625; 2. CVU 136.275; 3. St. Johnsbury 134.2; 4. Montpelier 128.6; 5. South Burlington 112.3; 6. Milton 109.075; 7. Randolph 85.45; 8. Harwood 83.9; 9. Middlebury 71.325.
Boys' Hockey
Harwood 5, NHS 0
Harwood boys' varsity hosted Northfield on Saturday, February 16, at the Ice Center of Washington West in Waterbury for a blowout game.
The first period had the Highlanders jumping ahead with a two-goal lead. At 3:04 into the first, Ollie Hammond scored assisted by Skylar Platt and Jake Green. At 13:24 Tyson Sylvia scored from a pass by Jonathan O'Brien.
The second period had senior captain Jake Wells score on a shot top left corner assisted by line mate Jake Green. Wells scored again minutes later unassisted on a slap shot that went top left again.
In the third period, up 4-0, after assisting earlier in the game, at 7:58 Jonathan O'Brien scored himself, assisted by Luke Spaulding and Tyson Sylvia to finish that game 5-0.
Sean Russell had 31 saves for Harwood and Ethan Prentice-Moorby had 37 saves for NHS.
Girls' Hockey
Harwood 3, Hartford 3
In an away game against Hartford, Harwood was able to score once in the first and two in the third to send them into an overtime session.
Erica Dow scored in the first period for the Highlanders, followed by Olivia Kaplan in the third. Down 3-2, the Highlanders were kept alive by standout defenseman Lilianna Ziedins, who is known from working the puck at both ends of the ice. Ziedins scored with 5.4 seconds in the third to force overtime.
"They led the whole game 2-1 after the first and 3-1 going into the third," said head coach Mike Vasseur. "I thought Hartford played very well and their goalie came up big. Hartford had improved a lot over the season. I really give our kids credit; they just kept going to goal and did not give up. We had quite a few good opportunities, but the Hartford goalie came up big again and again."
Harwood outshot Hartford 46-20. Harwood goaltender Kaylee Cameron had 20 saves.
Nordic at BFA
On Thursday, February 14, Harwood Nordic competed at BFA where Harwood had five skiers race. In 31st place was Sydney Kulis, in 40th was Ayla Oshkello, in 45th was Mackenzie Greenberg, in 46th was Caelyn McDonough, and in 47th was Julianne Young.
Nordic at U-32
In a race with 121 competitors, Harwood boys finished with a mix of placements. Carlton Cummiskey came in 15th, Brendan Magill came in 21st , Jesse McDougall was 27th, Vincent Spina was 77th and Holden Stephenson was 86th.
For girls, with 104 skiers, Caelyn McDonough came in 37th, Julianne Young came in 58th place, Ayla Oshkello was 78th and Taite Plagge was 89th.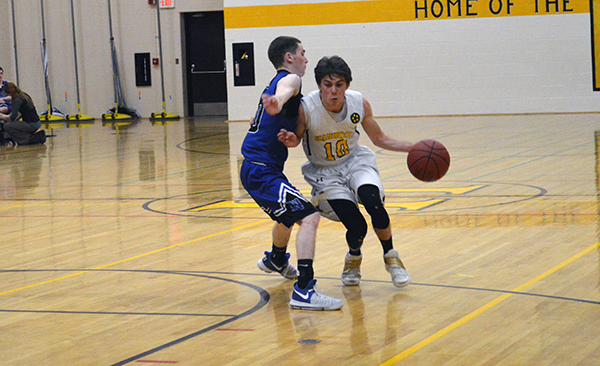 Boys' Basketball
Harwood 40, Williamstown 61
Harwood hosted the Williamstown Devils on Monday, February 18, in what would start out to be a close game, with the devils taking the lead and winning in the end.
In the first quarter Harwood came alive in the last five minutes of playing time. They started off the game playing hot potato, passing the ball around instead of shooting at open times. Highlanders finished the first quarter down 15-10.
In the second, Harwood came within three points before the Devils regained their momentum. Harwood would struggle with their rebounds and beating the rim and was playing better defense than the Devils. Before the half, Harwood was trailing 24-18.
The Highlanders ended the third quarter 41-29. Going into the fourth, Harwood's Charlie Zschau drew a technical foul before taking his foul shot. Harwood was able to sink in 11 more points, but it was not enough to clinch the win. Max Hill and Andrew Proteau had 10 points each, Charlie Zschau had nine, Will Lapointe had four and Ezra Samuel had three.