The fourth-seeded Harwood Union girls' ice hockey team hosted No. 8 seeded Woodstock for the Division II semifinal round of playoffs on Friday, March 8, at the Ice Center of Washington West.
In the first period Woodstock's Sami Yates would score with 8:09 remaining on a top right-hand shelf goal on a two-versus-one play, assisted by Faye Stevens. Harwood's defense would fall prey to Woodstock's fast breakout and Harwood would carry the puck into the zone instead of a dump and chase and have Woodstock quickly take passion back and send the other way. Harwood would fall behind on the back check, which would allow Woodstock to set up multiple two-on-one opportunities for the Woodstock offense, who would take the advantage and score.
At 6:06 Woodstock was called for a hook, which would give the Highlanders a power play opportunity to score the game. Woodstock defense served as a brick wall as they quickly iced the puck after thwarting the Highlanders' offensive attempts.
Just before the buzzer in the first, Woodstock was called for a body check. This put the faceoff in Woodstock territory with the seconds winding down; Harwood was not able to get a successful shot off, as both teams would head into the second, Woodstock a player down.
Starting the second period with 1:36 left in their second power play of the game, Harwood was not able to keep a strong, continuous momentum. Woodstock would score at 9:11 in the second on a down-low shot by Allie Climis assisted by Faye Stevens and again minutes later at 6:29 by Stevens assisted by Climis. At 3:57 in the second on another two-on-one play, Woodstock would get their fourth goal.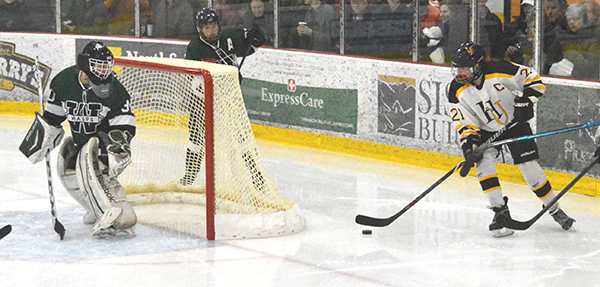 In the third period Woodstock scored their fifth goal with 8:51 remaining in front of a crowded Highlander net by Sami Yates, the score now 5-0. Woodstock would receive an array of penalties starting at the six-minute mark for body checks and hooking. With five minutes remaining Woodstock had two players in the box giving Harwood a five to three advantage.
Harwood would get their first and only goal of the game by senior defender Lilianna Ziedins who would skate the puck from the Highlander defensive blue line to net and score a power play goal. Ziedins was assisted by Hailey Brickey and Kailie French.
The Highlanders tried to work the puck at mid ice but were unable to make any plays. In the final minutes the team tried to fire off shots from the point, as Woodstock would win the match 5-1 to advance.
"It was a very good year. We started out with players from four schools and formed a team and then made a family. The kids did a great job and really bonded well together," said head coach Mike Vasseur.