Girls' softball
Harwood 12, Lake Region 24
Girls' softball hosted Lake Region for a triple-header for Harwood sports on April 30 in a game that would result in a Lake Region win.
The game started off evenly as Harwood would get their bats behind them and make their way around the bases. As the innings wore on the Highlanders could not hold Lake Region to a close lead, as Lake Region would go on to win the game.
Harwood 4, Peoples Academy 23
On Monday, May 6, Harwood traveled to play Peoples Academy in what would be a runaway game for the Wolves, who won 23-4.
Harwood softball plays again May 9 against Lyndon High School on the road.
Girls' lacrosse
Harwood 12, Milton 0
Harwood varsity girls' lacrosse traveled away on Tuesday, May 7, to face Milton High School in what would be a Highlander shutout.
Highlander Kaylee Cameron had eight saves against the Yellow Jackets. Harwood head coach Hillary Wheeler said that the defense worked hard to keep the ball out of the net. Kelly Tynan and Abi Scharges both had four goals apiece, Charlotte Cook notched in two, and Francie Aiken and Erica Dow both chipped in one each.
The Highlanders play next away against neighboring school rivals U-32 on Friday, May 10. "We plan to continue to work on fundamentals in the next couple of days of practice and hope the sun stays out. We will also be seeing Milton again this coming Saturday," said Wheeler.
Boys' tennis
Harwood 5 B.F.A. 1
On Monday, May 6, Harwood boys' tennis hosted BFA St. Albans where Harwood would go on to take over the day in singles' wins.
Harwood's Jesse McDougall won his set against Jacob Newman 8-1, Harwood's Peter Laino won against Nate Smullen 8-0, Alex Miquel won against Jayden Bedland 8-3, Harwood's Asher Martley won against Hunter Harrie 8-3 and Zack Wing won his set due to a BFA forfeit. BFA won their single game during doubles play against Harwood's Nathan Hamel and John Bardes.
Harwood 2, Colchester 5
On Tuesday, May 7, Harwood traveled to Bayside Park to play against Colchester in a game that would come out in Colchester's favor. Head coach for the Highlanders Seth Mikle commented on his team's play, saying it was close: "Close match, No. 3 and 4 singles lost in third-set super breakers."
In the first two sets, Harwood was victorious, as Peter Laino won his sets against Josh Wefers 6-1, 6-3. Harwood's Jesse McDougall won his sets next 6-1, 6-0.
Colchester's Caden Sultzbaugh would beat Alex Miquel, and Colchester's Caden Mercer would beat Harwood's John Bond-Bardes in three sets. Colchester's Zakir Beridze would beat Highlanders' Nathan Hamel 6-1, 6-1.
Colchester would go on to win two rounds of doubles play due to a Harwood forfeit.
Girls' tennis
Harwood 0, BFA 7
Harwood girls' tennis was on the road against BFA on Monday, May 6, in matches that would result in a BFA shutout.
Harwood's Claire McGeorge lost in singles, 6-1, 6-1. Lilianna Ziedins fell 6-2, 6-2 against BFA's Lily Herbert. Harwood's Anda Gulley was beat 6-0, 6-0 in her set. BFA's Kayla Daigle beat Highlander Maggie Alberghini 6-0, 6-0. And BFA's Lydia Hodgeman beat Harwood's Lila Derryberry 6-0, 6-0.
Harwood lost both sets of doubles, with partners Claudia Derryberry and Charlotte Mays 6-1, 6-1 and Ella Cook with Morgan Wing losing 6-0, 6-1.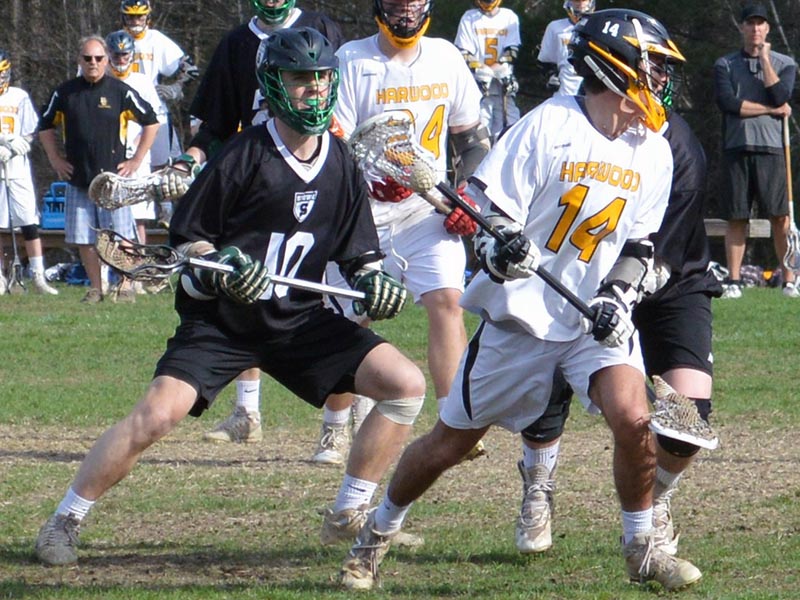 Boys' lacrosse
Harwood 7, Stowe 8
Harwood varsity lacrosse hosted Stowe High School on Monday, May 6, in a game that started evenly matched, as both teams were unable to find the net in the first quarter.
In the second half, Harwood would score first, followed by a rampage of Stowe goals. Heading into the half, Stowe would lead 4-2. In the third, Harwood would score the first goal, followed quickly by a Raider shot and score. Both teams would go back and forth for the rest of the game, as the aggressiveness could be seen on the field as sticks went flying at each other's bodies, trying to take over and gain ball possession.
Harwood's Eli Kalkstein had four goals. Mike Aiken, Jake Wells and Jake Lynn would all get a goal apiece. Harwood goaltender Sully O'Hara made eight saves on the game. Raiders' goaltender Nate Rice ended the game with 15 saves.
Head coach Russ Beilke commented, "We will need to refocus against Spaulding as we are not the team from last year. One of the things we did well was not giving up. … This is a very young team and we are learning more about us from game to game."